HIGHLIGHTS
Opening Ceremony
Keynote Lectures by
Nobel Prize Awardees'
Brian Kobilka and
Thomas Südhof
GPCRs on the Spot:
Top-class scientists of
the GPCR field
GPCR Science Networking:
36 Talks in six Sessions,
Round Table discussions
during 4 Poster Sessions,
Industrial Exhibition
GPCR Executive
Committees Meetings:
Hearings and Reports of
the Bodies of the Consortia
Early Career
Investigators Session:
GPCR Flash Talks by ECI
GPCRs at Night:
Night Tour and Dinner
at Zoo Leipzig
4GPCRnet meeting bringing together four of the biggest GPCR networks in Europe for a joint meeting in Leipzig.
Four of the biggest European networks on GPCR research (COST Actions Adher'n Rise and ERNEST plus DFG-funded CRC1423 and RU2372) have joined forces to organize an international meeting, which will take place from 26th-29th September 2022 in the beautiful city of Leipzig in Germany.
We aim to connect renowned international experts of the field with early career 'rising stars'. The event will take place in the heart of Leipzig, which offers a colorful mixture of culture and vivid social life.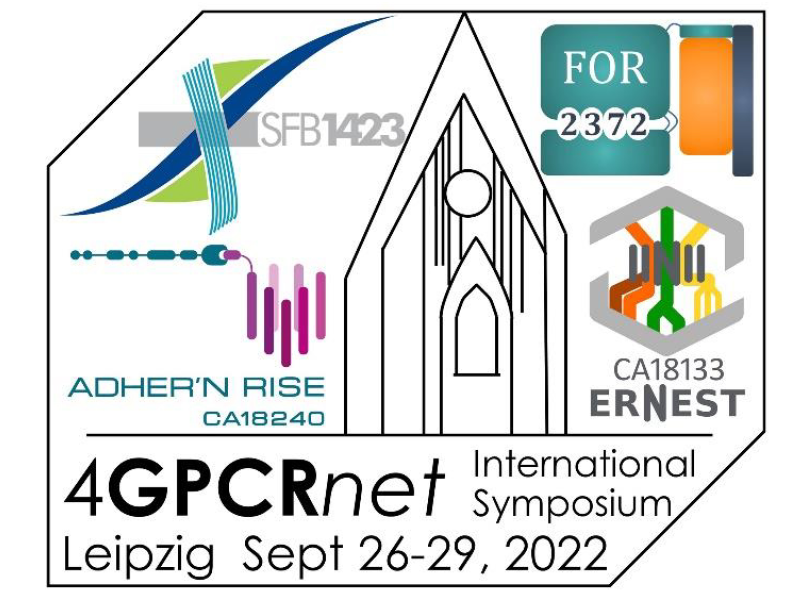 Dear Ladies and Gentlemen, dear Colleagues, dear Sponsors,
We cordially invite you to the 4GPCRnet International Symposium that will take place September 26-29, 2022 in Leipzig, Germany. The event is organized by four of the largest European networks in the field of GPCR research: the COST Actions Adher'n Rise and ERNEST, and the DFG-funded collaborative projects SFB1423 "Structural Dynamics of GPCR Activation and Signaling" and RU2372 "G protein signalling cascades".
4GPCRnet will be a key event for the GPCR community in 2022 where the latest findings and approaches to GPCR signal transduction research – a core focus of medicinal drug development – will be presented. By joining forces, we aim to bring the global GPCR community back together after the significant disruptions caused by the pandemic. To this end, the symposium will create the necessary synergies for new ideas and collaborations, thus promoting international and interdisciplinary cooperation.
We have succeeded in attracting numerous experts in this field, including two well-known Nobel laureates. These top-notch speakers will provide both the current state of research as well as a glimpse into the future, highlighting cutting-edge insights into the mechanisms of GPCR signaling, from molecular structure and dynamics to cell function, (patho)physiology, and drug development. In addition, the Symposium will promote the training and networking of Early Career Investigators (ECI) through dedicated sessions and activities.
The 4GPCRnet program comprises scientific sessions on the key topics in the field, as well as poster and networking sessions, industrial exhibitions, and cultural events. While we are aware that the coronavirus pandemic is far from over, we are confident that the seasonal timeframe of the meeting and the spacious, well-equipped meeting facilities at the University Campus in Leipzig will support a successful and safe in-person meeting.
We look forward to your participation.
Co-Chairs des 4GPCRnet International Symposium

Prof. Dr. Annette G. Beck-Sickinger (Leipzig University, Chair des SFB 1423)
Dr. Andreas Bock (Max Delbrück Center for Molecular Medicine, Grant Holder of CA18133 ERNEST)
Prof. Dr. Evi Kostenis (University of Bonn, Chair der RU 2372)
Prof. Dr. Dr. Ines Liebscher (Leipzig University, Grant Holder of CA18240 Adher'n Rise)
Prof. Dr. Simone Prömel (Heinrich Heine University Düsseldorf, Chair of CA18240 Adher'n Rise)
Dr. Martha Sommer (ISAR Bioscience, Chair of CA18133 ERNEST)